Here's how you can Eliminate Tear Stains on Dogs



Tear staining, common on many dogs with short muzzles,
facial folds or prominent eyes, can ruin the look of a face.
Use the tear stain remover in the days and weeks before showing,
or as part of the regular grooming


Effective product Safely Removes Dog Tear Staining




Diamondeye, a dog tear stain remover from Vitacoat,
used to remove tear stains around the eyes caused
by tearing and weeping.



• An all-time favorite of handlers in many breeds.
• Also a cleansing agent for furrows on
Bloodhounds, Boxers, Pekinese, and all similar breeds.

• Available in 125 ml or 250 ml


We are sorry this product is no longer available, but
you may be interested in other dog products at our supplier below.
Thank you for your patience.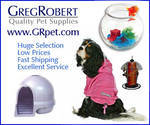 Really Cool Gift Ideas for Dog Lovers
Custom Search
Dog Supplies
Home