While a glossy, beautiful coat is a sign of your pet's overall health & well-being, skin & coat problems are one of the most frequent reasons pets see a veterinarian. This supplement provides essential fatty acids needed by your dog or cat to maintain normal skin and hair quality.
Benefits of Skin & Coat Formula
for Dogs & Cats

Soothes irritated skin from the inside out.

Recommended for animals with excessive itching & scratching.

Formulated for flaky skin: dry or oily.

Promotes a shiny, healthy, full coat.

Promotes healthy skin & coat thus reduces shedding.


Features of Skin & Coat Formula
for Dogs & Cats

Contains natural, wholesome skin & health support nutrients including fish oil (omega fatty acids) and vitamin E. Delicious roast beef flavor.

Fatty acids are microencapsulated for better absorption. Oil is certified free of contaminates such as mercury & lead.

Manufactured by a pharmaceutical plant that makes human products.
Suggested daily dosage:

Less than 15 pounds: ½ tablet
15-29 pounds: 1 tablet
30-49 pounds: 1½ tablets
50-99 pounds: 2 tablets
100+ pounds: 3 tablets

Start off with ½ suggested dose, gradually increasing to recommended dose within a week.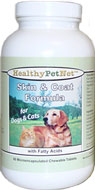 60 tasty chewable tablets


For Cats & Dogs Less than
15 lbs. One Bottle Lasts
about Four Months.

Hints & Helpful Info

Use in conjunction with Herbal Conditioning Shampoo & Soothing Mist for the optimal health of your pet's skin & coat.

Microencapsulation is an expensive, state-of-the-art process where oils/fats are made very small to promote better absorption in the intestines. This enables your pet to receive the full benefit of the oils.

This formula was tested on over 200 dogs in over 40 veterinary clinics and proven effective.

Featured Ingredients ... a bit of history:
Omega Fatty Acids: All oils are classified according to their chemical structure and their function in the body. Fish such as herring and salmon contain high amounts of omega-3 oils, as do wild game. These oils are being studied intensively for their nutritional value throughout the body in humans, dogs and cats. Cornell Feline Health Center was one of the first to demonstrate the positive effects of omega-3 oils in managing skin flare ups and other skin conditions.
Ingredients:

Calcium Phosphate, Powdered Cellulose, Fish Oil, Liver Powder, Hydrolyzed Vegetable Protein (roast beef flavor), Sucrose, Vitamin E Supplement, Vegetable Oil, Stearic Acid, Vitamin A Supplement, Choline Chloride, Zinc Oxide, Inositol, Vitamin D Supplement, TBHQ (preservative).